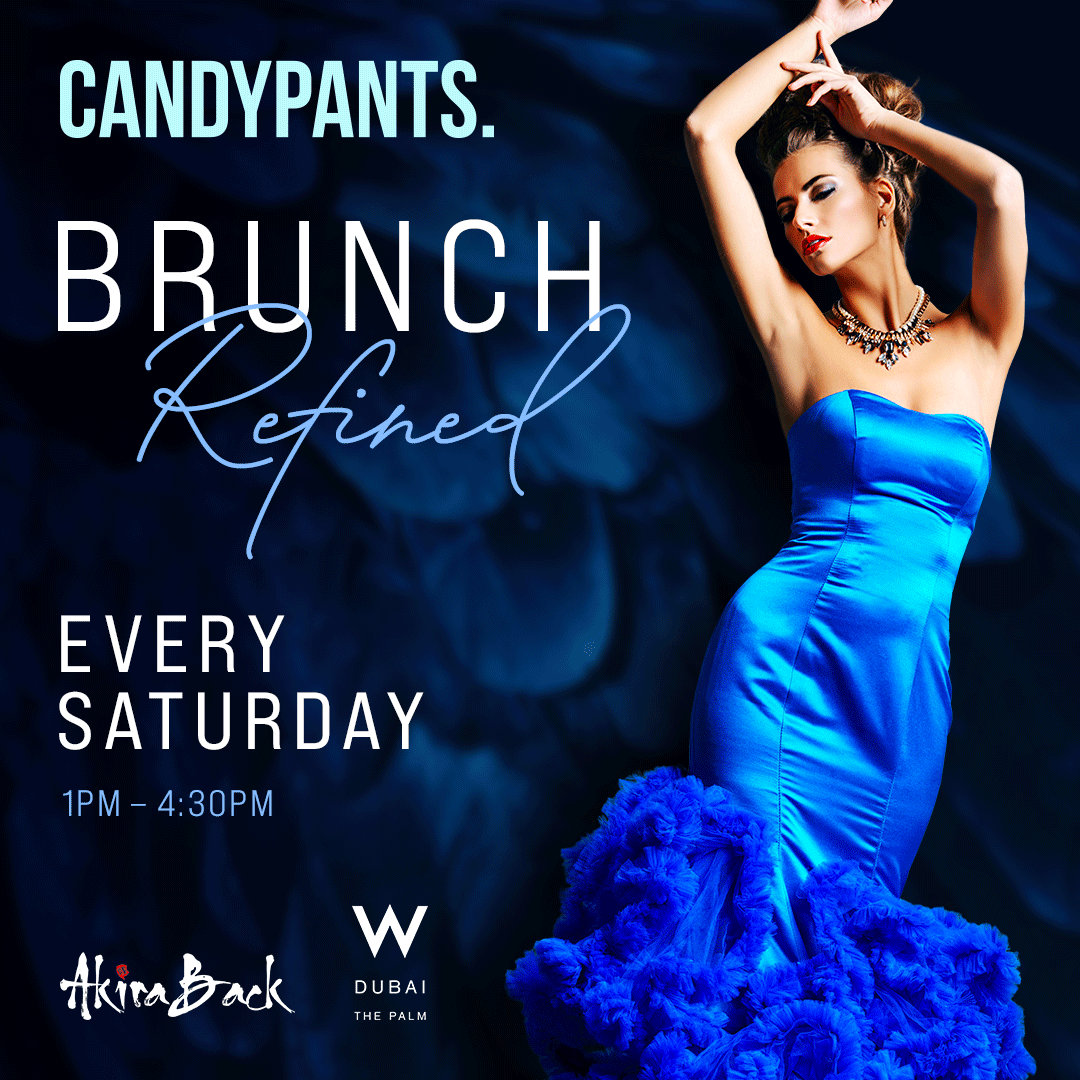 Akira Back, W Dubai – The Palm Every Saturday at celebrity chef Akira Back's rooftop restaurant – Listed as a recommended venue in the Michelin Guide 2023.
Brunch refined (Winner of Best Party Brunch 2023 – What's On Awards and Winner of Best Party Brunch 2022 – Time Out Awards) – elegant and cultured in appearance, manner, and taste. You will experience culinary Japanese cuisine with Korean and international influence, derived from seasonal produce and artisanal sourced ingredients, and taste the eclectic Japanese flavours. Think artisan sushi, tacos, delicious meat 
Expect spectacular views of the Palm Dubai, paired with an unbeatable food and cocktail experience at one of the most opulent venues in the city, and of course paired with the high energy from DJ Drew Moreland (Highly Commended Best DJ by What's On 2023) and unforgettable vibes Candypants is known for. 
We have fused global brands together to deliver an unmissable brunch experience and after party whilst aimed to create unforgettable memories for all of our guests. 
Brunch 1pm – 4:30pm
LOUNGE
Soft: 399 AED
House: 449 AED
Premium: 599 AED
Champagne: 799 AED
Facecard / Teacher package: 399 AED
RESTAURANT
Soft: 425 AED
House: 475 AED
Premium: 649 AED
Champagne: 799 AED
Facecard / Teacher package 425 AED
TERRACE PACKAGES
Soft: 449 AED
House: 499 AED
Premium: 675 AED
Champagne – 850 AED
Facecard / Teacher package 449 AED
After Brunch 4pm – 8pm
PACKAGES
3 Drinks: 100 AED (4pm – 6pm)
VIP Tables from 2000 AED
Please note: this is a 21+ only event and last orders for brunch are taken at 4:10pm and no fancy dress allowed
Please note: This is a 21+ only event and no fancy dress allowed
Do you cater for dietary requirements?
Yes we can, both our brunches can cater for Gluten Free and Vegan options
How do we pay?
You need to pay a 20% deposit when you book more than a month before the event then a month before the event the full amount needs to be paid.
Can we bring own cake / balloons?
Of course you can, no issue at all. Pass the cake to our Event Manager on the day.
Are we in the main room?
This will depend on availability, but we will check and confirm.
What is the dress code?
The dress code is smart casual. Please no fancy dress, sportswear, flip flops, man bags or trainers.
Can we pay the deposit separately?
Yes you can and this will be deducted from your brunch payment on the day. We will however require every person's name and email address in your group as individual links will need to be sent.
What music is it?
We play a mixture of house, commercial and RnB.
Is there live entertainment?
Yes there is, we have a DJ and Bongo Player.
What drinks are included?
You can see our food & drinks menu here. 
Is there an age limit?
Yes there is, the age limit is 21 for both brunch events.
Can our friend join us but pay A La Carte?
Unfortunately not, these event are for Brunch packages only and the kitchen run a certain system during these events.
Is there a non alcoholic package?
Yes we have non alcoholic packages available for both brunches 399 AED for Brunch Refined and 349 AED for La Vacanza Brunch
Is there smoking inside?
Unfortunately smoking isn't allowed inside 
Do you serve shisha?
We don't at the brunch events but Shisha's are available on the terrace at our after party at Sobe.
I haven't received an email!
Please can you check your spam or promotions folder. If not in those folders we will send again
Do we need to book for the afterparty?
There is no need to pre-book for the Afterparty. But it is a first come first served with table seating. 
Are there any discounts?
We have discounts for Teachers / Facecard. We require proof of ID. For teachers (a physical ID card, visas in passports don't count for teachers).
If someone drops out can I use the deposit on the day?
No, it has to be given 24 hour notice. We will refunded to your card, this can take up to 2 weeks.